Company Description
About ISAHA Medical
𝐈𝐒𝐀𝐇𝐀 𝐌𝐞𝐝𝐢𝐜𝐚𝐥 is a renowned manufacturers & exporter of the below-mentioned product's lines:
- 𝐌𝐞𝐝𝐢𝐜𝐚𝐥 𝐈𝐧𝐬𝐭𝐫𝐮𝐦𝐞𝐧𝐭𝐬 such as 𝑷𝒍𝒂𝒔𝒕𝒊𝒄 𝑺𝒖𝒓𝒈𝒆𝒓𝒚, 𝑶𝒓𝒕𝒉𝒐𝒑𝒆𝒅𝒊𝒄 𝑺𝒖𝒓𝒈𝒆𝒓𝒚, 𝑮𝒚𝒏e𝒄𝒐𝒍𝒐𝒈𝒚 𝑺𝒖𝒓𝒈𝒆𝒓𝒚, 𝑳𝒂𝒓𝒚𝒏𝒈𝒐𝒔𝒄𝒐𝒑𝒆 & 𝑶𝒕𝒐𝒔𝒄𝒐𝒑𝒆.
- 𝐒𝐜𝐢𝐞𝐧𝐭𝐢𝐟𝐢𝐜 𝐓𝐨𝐨𝐥𝐬 𝐚𝐧𝐝 𝐃𝐢𝐬𝐬𝐞𝐜𝐭𝐢𝐨𝐧 𝐒𝐞𝐭𝐬 & 𝐓𝐨𝐨𝐥𝐬.
- 𝐂𝐨𝐬𝐦𝐞𝐭𝐢𝐜 & 𝐏𝐞𝐫𝐬𝐨𝐧𝐚𝐥 𝐂𝐚𝐫𝐞 𝐓𝐨𝐨𝐥𝐬 such as 𝑴𝒂𝒏𝒊𝒄𝒖𝒓𝒆 & 𝑷𝒆𝒅𝒊𝒄𝒖𝒓𝒆, 𝑬𝒚𝒆𝒍𝒂𝒔𝒉 𝑬𝒙𝒕𝒆𝒏𝒔𝒊𝒐𝒏 𝑻𝒐𝒐𝒍𝒔, 𝒂𝒏𝒅 𝑻𝒘𝒆𝒆𝒛𝒆𝒓𝒔.

ISAHA Medical is a unique leader in producing the best quality standard instruments and is well familiar with the Quality control process, using international quality control norms. The organization is working as per 𝐐𝐮𝐚𝐥𝐢𝐭𝐲 𝐌𝐚𝐧𝐚𝐠𝐞𝐦𝐞𝐧𝐭 𝐒𝐲𝐬𝐭𝐞𝐦 𝐈𝐒𝐎 𝟗𝟎𝟎𝟏:𝟐𝟎𝟏𝟓. 𝐈𝐒𝐎 𝟏𝟑𝟒𝟖𝟓:𝟐𝟎𝟏𝟔 and practicing all QA systems as described in the Norm. i.e.
- QMS Procedures
- Management Reviews
- Internal Audit
- CPA's
- Customer Feed Back etc.

ISAHA Medical operates under strict internal quality management systems which conform to the latest standards as advised by the European Directive for Medical Devices.

𝐃𝐢𝐯𝐢𝐬𝐢𝐨𝐧 𝐨𝐟 𝐁𝐌𝐀 𝐈𝐧𝐭𝐞𝐫𝐧𝐚𝐭𝐢𝐨𝐚𝐧𝐥
𝐈𝐒𝐀𝐇𝐀 𝐌𝐞𝐝𝐢𝐜𝐚𝐥 is a division of 𝐁𝐌𝐀 𝐈𝐧𝐭𝐞𝐫𝐧𝐚𝐭𝐢𝐨𝐚𝐧𝐥 , which has been in this business for the last 15 years and also earned a brilliant name in the industry of Surgical instruments & Beauty Care Tools.

𝐈𝐒𝐀𝐇𝐀 𝐕𝐚𝐥𝐮𝐞
ISAHA Medical understands the importance of Quality in the manufacturing process. In this link, we maintain a Total Quality Improvement process in manufacturing throughout the company. Our manufacturing facilities are equipped the modern machinery to attain the highest perfection of Quality. Our Total Quality Management process continually reviews operations in manufacturing to ensure that material and finished products meet the highest standards. Also, we are preferred sub-contract Original Equipment Manufacturers (OEM) manufacturing for major brands in the world.

𝐏𝐫𝐨𝐝𝐮𝐜𝐭 𝐅𝐞𝐚𝐭𝐮𝐫𝐞𝐬
ISAHA Medical provides 𝑬𝑪 𝑫𝒆𝒄𝒍𝒂𝒓𝒂𝒕𝒊𝒐𝒏 𝒐𝒇 𝑪𝒐𝒏𝒇𝒐𝒓𝒎𝒊𝒕𝒚 𝑪𝒍𝒂𝒔𝒔 (𝑰), 𝑻𝒆𝒄𝒉𝒏𝒊𝒄𝒂𝒍 𝑫𝒓𝒂𝒘𝒊𝒏𝒈 𝒐𝒇 𝒂𝒏𝒚 𝒑𝒓𝒐𝒅𝒖𝒄𝒕, 𝑪𝒆𝒓𝒕𝒊𝒇𝒊𝒄𝒂𝒕𝒆 𝒐𝒇 𝑸𝒖𝒂𝒍𝒊𝒕𝒚 (𝑪𝑶𝑸), 𝑰𝒏𝒔𝒕𝒓𝒖𝒄𝒕𝒊𝒐𝒏 𝒇𝒐𝒓 𝑼𝒔𝒆 (𝑰𝑭𝑼) to our valued customers on demand.
Member Information
| | | |
| --- | --- | --- |
| Business Type | : | |
| Founded in | : | 2012 |
| Employees | : | 11-50 |
| | | |
| --- | --- | --- |
| Member Since | : | 24 Nov 2021 |
| Membership Status | : | Free Member |
| Business Category | : | Health & Medical |
Company Overview
Behind Bilal Masjid, Mohallah Amanat Pura, Near Jinnah Stadium, Sialkot, Punjab, Pakistan
After Sell Services & Supports :
We will provide you with excellent after-sale services regarding quality-related issues and delivery time frames.
Quality Control Policy :
ISAHA Medical is committed to continual improvement in the quality and the service that provided to valuable customers through:

- Right at First Time
- Quality Assured Products, in which effective applying use of STATISTICAL TECHNIQUES. (Like Pareto Diagram, Control Charts, Cause & Effect Diagram & Bar Graph)
- Improve Quality through Modern Techniques
- Main Emphasis On Quality
- Fulfilling Customer Requirements In Production, Process & Service
- On-Time Delivery
- Minimize Rework and Rejection Rate
- Competitive price as per customer's need.
- Fully co-ordinate in case of customer's complaint or suggestions.

ISAHA Medical always feels pleasure & honored serving to the valuable customers with Quality Assured products and to the entire satisfaction.
Main Products:
Medical Instruments, Dissection Tools, Dissection Kits, Dissection Sets, Eyelash Tools, Dissecting Kits, Eyelash Extension Tweezers, Manicure Tools, Scientific Tools, Plastic Surgery Instruments, Orthopedic Surgery Instruments, Gynecology Surgery Instruments, Eyelash Extension Tweezers, lash tweezers, lash extension tweezers, eyelash tweezers
Factory Information
Behind Bilal Masjid, Mohallah Amanat Pura, Near Jinnah Stadium
Mohammed Abdullah Khurram
In-house manufacturing and effective outsourcing.
Factory Image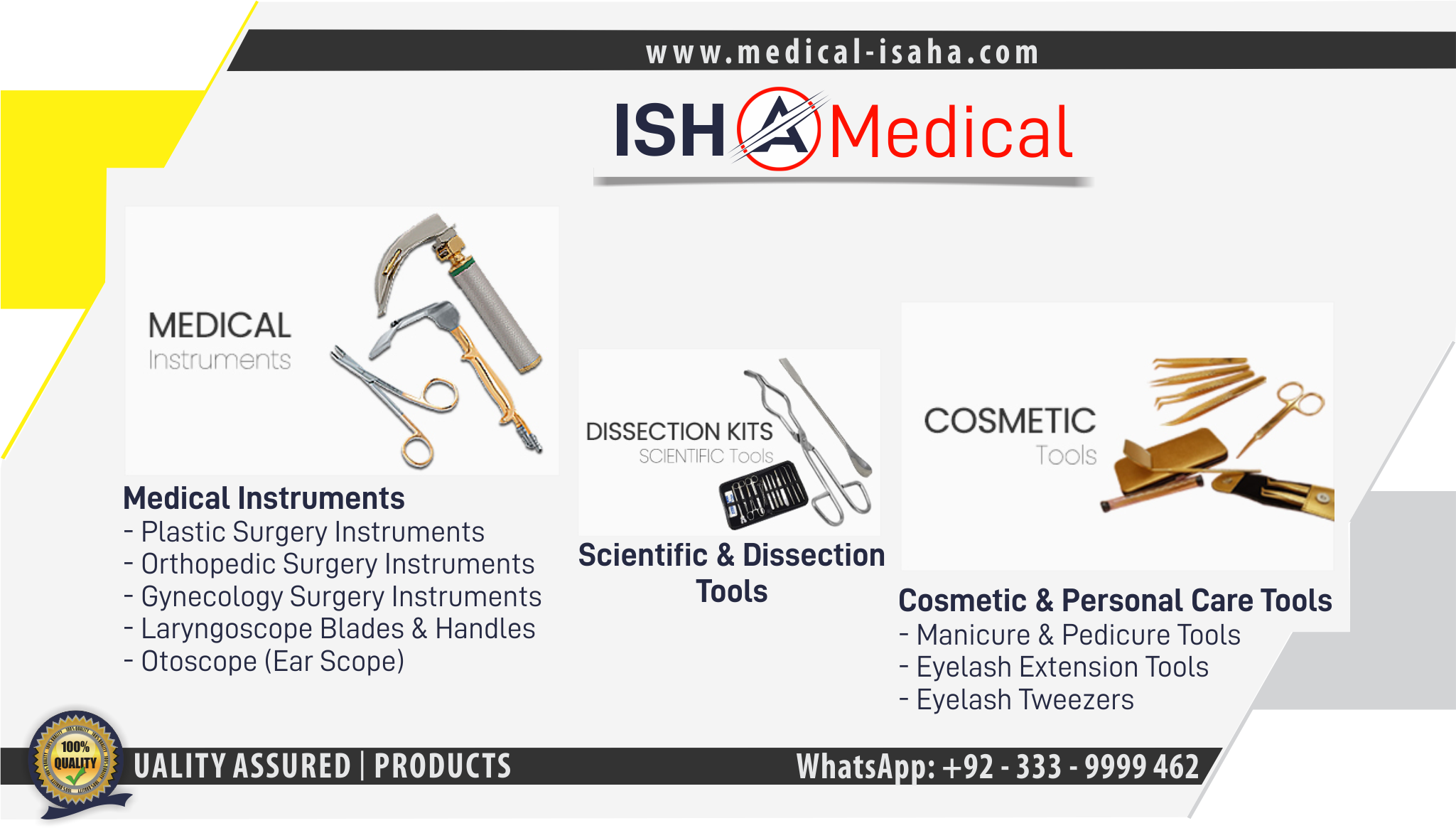 Certificate - ISAHA Medical
ISO 13485:2016
Type of Certification : Management System Certifications
Issued By:
End Date:
ISO 9001:2015
Type of Certification : Industry Standard Authorizations
Issued By:
End Date: